The Velociraptor is believed to be the smartest dinosaur ever.It hunted in packs and therefore increased its chances of a kill.It is one of the many of the raptor family and have many relatives, and although they are much larger, Velociraptor is still smater and is much more capable of catching prey or escaping predators.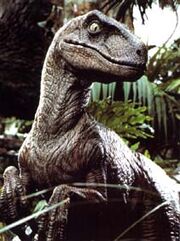 The speed of a velociraptor is oe of its greatest advantages in the prehistoric world, and it is so fast you can barely see its legs move(see below).
Velociraptor, like other dromaeosaurids, had a large manus ('hand') with three strongly curved claws, which were similar in construction and flexibility to the wing bones of modern birds. The second digit was the longest of the three digits present, while the first was shortest. The structure of the carpal (wrist) bones prevented pronation of the wrist and forced the 'hands' to be held with the palmar surface facing inwards (medially), not downwards. The first digit of the foot, as in other theropods, was a small dewclaw. However, whereas most theropods had feet with three digits contacting the ground, dromaeosaurids like Velociraptor walked on only their third and fourth digits. The second digit, for which Velociraptor is most famous, was highly modified and held retracted off of the ground. It bore a relatively large, sickle-shaped claw, typical of dromaeosaurid and troodontid dinosaurs. This enlarged claw, which could be over 6.5 cm (2.6 in) long around its outer edge, was most likely a predatory device used to tear into prey, possibly delivering a fatal blow.
All of the fossil sites that have yielded Velociraptor remains preserve an arid environment with fields of sand dunes and only intermittent streams, although the younger Barun Goyot environment seems to have been slightly wetter than the older Djadochta. The posture of some complete fossils, as well as the mode of preservation most show within structureless sandstone deposits, may show that a number of specimens were buried alive during sandstorm events common to the three environments.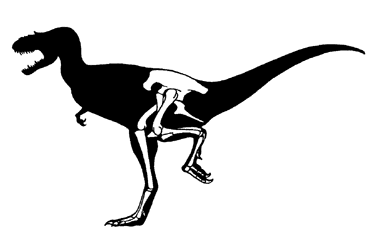 Ad blocker interference detected!
Wikia is a free-to-use site that makes money from advertising. We have a modified experience for viewers using ad blockers

Wikia is not accessible if you've made further modifications. Remove the custom ad blocker rule(s) and the page will load as expected.